Meet the Doctors
Dr. Daniel Bowker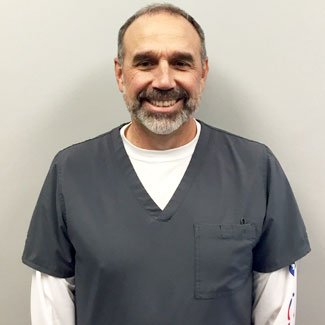 Dr. Daniel Bowker received his Doctor of Chiropractic degree from National University of Health Sciences in Chicago, Illinois. Prior to attending chiropractic school, he was a registered nurse for 12 years, providing care to patients in a number of settings, including trauma and intensive care units. He was drawn to chiropractic care because it doesn't depend on medications to get people well; he saw first-hand how the over-prescribing of antibiotics led to the antibiotic-resistance problem we now have in this country.
Originally from Rochester, New York, Dr. Bowker and his family have called Charlotte home for many years. He and his wife have four grown children, two sons and two daughters. Their son Nathan, also a chiropractor, joined the practice in 2017.
Dr. Bowker finds his greatest pleasure in helping his patients achieve their best possible health. He says, "Miracles happen here every day." He is committed to ongoing study so that his patients get the chiropractic care best suited to their individual needs and goals. Along with being a certified chiropractic sports physician, Dr. Bowker is a certified acupuncturist.
Outside of the office, Dr. Bowker enjoys reading, golfing, and participating in marathons and Iron Man events.


Dr. Nathan Bowker
Dr. Nathan decided to become a chiropractor at a young age, after witnessing the great progress made by one of his father's patients – a girl with cerebral palsy. As he puts it, "I saw that chiropractic care could heal people in so many ways, without drugs. She's the reason I chose this path."
Dr. Nathan graduated from the Sherman College of Chiropractic in Spartanburg, South Carolina in 2017. One of the important lessons he learned at school resulted from his being assigned some difficult cases in his clinical rotation. "I found much success by talking to those I was helping as people, not as patients, and talking to them with love."
Prior to attending Sherman, Dr. Nathan received a degree from East Carolina University, majoring in exercise physiology.
Get the care you deserve
Our South Charlotte chiropractors strive to help you live your best life. Make a choice to achieve your best health—call or stop by today!
CONTACT US »

Chiropractors South Charlotte | Bowker Clinic of Chiropractic